You are here
Main events calendar
Past Events
6 February 2019 - 6 February 2019
MCN Hall (near Sabasaba Primary School), Tarime District, Mara Region
This year's theme for International Day of Zero Tolerance for FGM is: "Translate political decisions into concrete actions at the national and grassroots level to reach the goal of zero tolerance to female genital mutilation by 2030."
Details

12 August 2018 - 12 August 2018
TBC
International Youth Day is celebrated annually on 12th August.  The theme for this year is: "Safe Spaces for Youth."
Youth need safe spaces where they can come together, engage in activities related to their diverse needs and interests, participate in decision-making processes and freely express themselves.
Details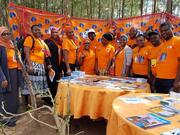 17 October 2017 - 17 October 2017
Dar es salaam
Theme: Worlds Apart: Reproductive health and rights in an age of inequality.
Details
Pages