You are here
Main events calendar
Past Events

11 October 2017 - 11 October 2017
TBC
International Day of the Girl Child is celebrated annually on 11th October to recognize girls' rights and the unique challenges girls face around the world.  This year's theme is "The Power of the Adolescent Girl: Vision for 2030."
Details
12 August 2017 - 12 August 2017
Dodoma
International Youth Day is celebrated annually on 12th August.  This year's theme: "Youth Buidling Peace" reaffirms and recognizes the central role that young people play in promoting the well-being of their families, communities and nations.
Details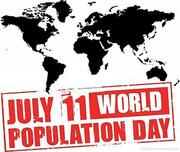 11 July 2017 - 11 July 2017
Mwembe Yanga, Dar es salaam
World Population Day is an annual event commemorated on 11th July to raise awareness on global population issues such as the importance of family planning, gender equality, maternal health, human rights and poverty. The theme of #WPD2017 is "Family Planning: Empowering People, Developing Nations".
Details
Pages