Once a decade the Government of the United Republic of Tanzania undertakes one of its largest and challenging exercises – a Population and Housing Census (PHC). It requires mapping the entire country, mobilizing and training a large number of enumerators, conducting a public advocacy campaign, canvassing all households, and compiling, analysing and disseminating vast amounts of data.
More than just a head count, the census provides a snapshot of Tanzania – how many people are living in the country by age, sex and geographic location – and importantly how they are living, as well as other key socioeconomic characteristics. The PHC remains the primary source of data for Government – both at the national and local level – that informs development policies, plans and programmes and determines resource allocation. The data collected also plays a prominent role in providing the demographic surveillance necessary for monitoring and evaluation of the Sustainable Development Goals, which place the highest priority on leaving no one behind and serving the furthest behind first.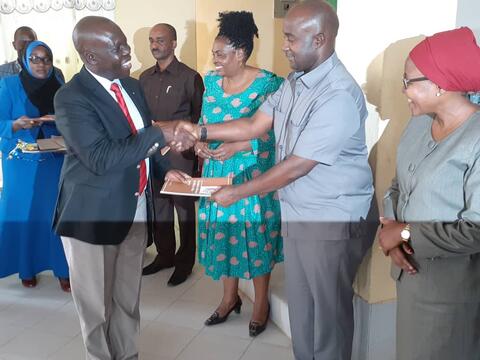 As preparations get underway for the 2022 Tanzania PHC, UNFPA Tanzania is supporting the National Bureau of Statistics (NBS) to prepare the 2022 Census cartography. For the first time in the country's census-taking new Geographical Information Systems (GIS) technologies are being used to accurately demarcate the country into enumeration areas – small geographic areas that will be canvassed by one census enumerator during data collection.
On 16 October 2019, UNFPA staff visited an NBS technical field team in Kondoa District, Dodoma Region, who were using a handheld tablet, loaded with GIS software, to update and demarcate EAs, incorporating newly-formed administrative boundaries and mapping key landmarks such as schools, health facilities and water points.
The following day at a dissemination meeting hosted by the NBS in Bahi District, Dodoma, Dr. Wilfred Ochan, UNFPA Deputy Representative in Tanzania, received a booklet containing the 2019 geography for Bahi District – with its clearly defined EAs and structural listings generated using the latest technology during field mapping work that took place in 2018 and 2019 in preparation for the 2022 PHC. Speaking at the launch Dr.Ochan reiterated UNFPA's commitment to supporting the NBS in both preparatory activities and in producing and disseminating the 2022 Census results, acknowledging the strong commitment of government to ensure that everyone is counted and everyone's voice is heard in the 2022 Census!