Dar es Salaam – 08 September 2022. On the occasion of the Norwegian Minister of International development's visit to Tanzania, a roundtable discussion on Sexual and Reproductive Health and Rights (SRHR) took place at Sea Cliff Hotel. The discussion gathered representatives of the Government of the United Republic of Tanzania, the Norwegian Minister and her delegation, development partners, United Nations agencies, private sector, and civil society. The event focused on means to increase attention and mobilize resources for SRHR. It was hosted by the Norwegian Embassy and the United Nations Population Fund (UNFPA).
Dr. Ahmad Makuwani, Director of Reproductive and Child Health Services, speaking on behalf of the Minister of Health, provided updates on Tanzania's progress on SRHR and commitments made at the 2019 International Conference on Population and Development (ICPD25), including preventing maternal deaths through a comprehensive package of sexual and reproductive health services.
Honorable Anne Beathe Tvinnereim, the Norwegian Minister of International Development shared the Norwegian Ministry of Foreign Affairs' new guidelines for SRHR. The guidelines present Norwegian policy and global priorities and enhance the impressive return on investment that universal access to SRHR can provide to any society. It further highlights the importance of access to information and services - free of discrimination, coercion and violence.
Discussants included representatives of the Benjamin Mkapa Foundation, the British High Commission representing Development Partners Group on Health, the Association of Gynecologists and Obstetricians of Tanzania (AGOTA), and Sahara Sparks. Speakers recognized Government of Tanzania's policies and programming that expand access to sexual and reproductive services. These efforts have led to achievements including an increased proportion of births taking place in health facilities and skilled attendance at birth (both at 80 percent or above nationally in 2020).
Concern was expressed about Tanzania's high maternal mortality rate (556 per 100,000 live births according to the 2015/2016 Tanzanian Demographic Health Survey). Speakers highlighted the need to address contributing factors and improve the quality of health services. This includes access to voluntary family planning services and a comprehensive response to prevent teenage pregnancy, which currently stands at 27% of all girls aged 15-19 years nationwide. Calls were made for the acceleration of efforts for a comprehensive approach to SRHR that meets the needs of all people through quality interventions and enhanced accountability across implementation areas. It was further highlighted that increased domestic resource mobilization accompanied by investment in human resources and engagement with the private sector are critical to sustain recent gains and enable additional investments.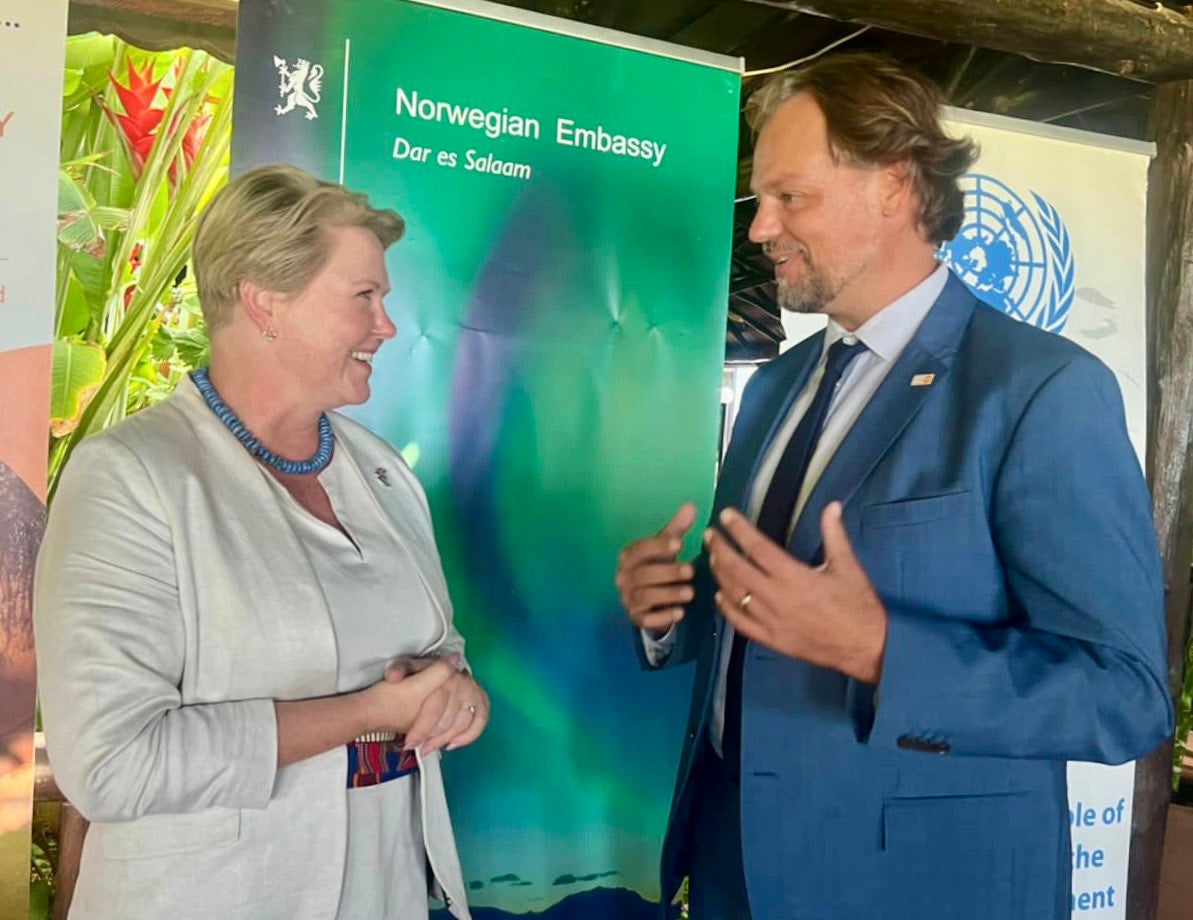 UNFPA Representative Mark Bryan Schreiner, thanked Norway for their role as a major partner to UNFPA's work in advancing SRHR globally and in Tanzania. The support focuses on increasing access to informed choice and voluntary family planning, strengthening maternal health and programming for adolescents, including comprehensive sexual education, and the prevention of gender-based violence and harmful practices.
Women's rights and gender equality are at the heart of Norway's foreign and domestic policy. Norway supports a wide range of initiatives strengthening this agenda in Tanzania, both bilaterally and through the One UN Fund. Norway continues supporting the cooperation between Haydom Lutheran Hospital and Laerdal Global Health for the "Safer Births" programme. Organizations like Norwegian Church Aid, Plan International and Marie Stopes International, also benefit from Norwegian support. Total Norwegian support earmarked to the health and social sector in Tanzania in 2021 amounted to USD 11.2 million.
Media Contact:
Warren Bright, UNFPA Tanzania Communications Analyst, Mobile: +255 764 43 44 45, Email: bwarren@unfpa.org