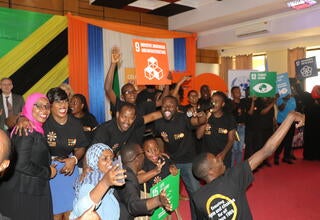 UNFPA Tanzania refocused attention on accelerating the promise of Cairo in the run up to World Population Day on 11 July 2019. From 9 to 11 July, UNFPA, with the support of the Dodoma Regional Office, and in partnership with Dodoma Regional Referral Hospital and development partners – both national and international –– set up a "health village" in Nyerere Square, Dodoma, where people could access a range of sexual a...
Want to improve women's lives and countries' prospects for prosperity? Expand contraceptive choice. Her life. Her choice. Our future. Women have a right to make their own decisions about whether, when and how often to become pregnant. That right was reaffirmed in 1994 in Cairo at the landmark International Conference on Population and Development (ICPD), where 179 governments agreed that sexual and reproductive he...
"Now is the time to secure the rights, choices and dignity of all, leaving no one behind," said Jaqueline Mahon, UNFPA Representative in Tanzania, in a call for the movement to deliver on the promise of Cairo to be re-energized.