Ensuring rights and choices for all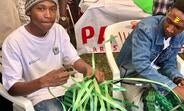 7 August 2018
No woman should die giving birth
Giving birth in Simiyu Region is a painful ordeal that many women have to endure. Long distances to health facilities, poor infrastructure including a lack of equipment, and a shortage of qualified staff mean that many...
UNFPA's success in Tanzania

An overview of child marriage in Tanzania.

An overview of teenage pregnancy in Tanzania.