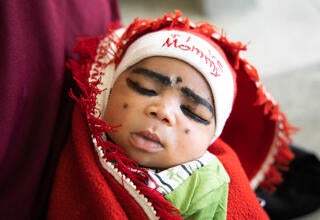 Zanzibar, United Republic of Tanzania, 13 October – A maternity ward was opened today at Kivunge District Hospital. The renovated facility will increase access to timely, high-quality and comprehensive maternal and child health care, including emergency obstetric and newborn care, for the 200 women who give birth in the predominantly rural area in the north of Zanzibar every month; and means that pregnant women expe...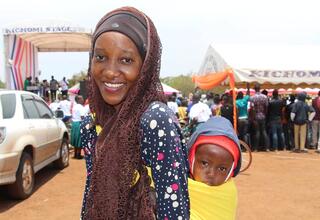 Msasala District, Shinyanga Region, 13 October – UNFPA and UN Women have launched a $5 million, three-year Joint Programme –"Realizing Gender Equality through Empowering Women and Adolescent Girls" – in Msasala District, Shinyanga Region, Tanzania, supported by the Korea International Cooperation Agency (KOICA). It follows the launch of the same programme in Ikungi District, Singida Region, on the 29 September.
Amira, Fatma and Sabra* are all in Form 3 at Bumbwini Secondary School, North B District, Zanzibar. They love school; they say there is a good relationship between students and teachers and most importantly they are learning, but for all three things are very different on their return home. They say they no longer have time to study; they are busy cooking, washing dishes and clothes, cleaning, and collecting water: "...
Vacancies
Level: NOB (ICS 09) Non-Rotational Full-time The position: The United Nations Population Fund (UNFPA) is seeking to...