Ensuring rights and choices for all
8 March 2019
International Women's Day 2019
Statement by Dr. Natalia Kanem United Nations Under-Secretary-General and Executive Director of UNFPA, the United Nations Population Fund on the occasion of International Women's Day, 8 March 2019.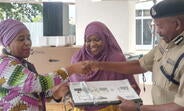 How maps are preventing female genital mutilation

2018 was a year of expansion for UNFPA in Tanzania. We continue to put the most...

Welcome to the first edition of Kamili!    Join us in looking back over the year's...