6 February, Dar es Salaam: Youth from Tanzania's regional chapter of AfriYAN – the African  Youth and Adolescents Network on Population and Development of Eastern and Southern Africa – and Msichana Initiative's School Clubs were some of the participants at  commemorations for International Day of Zero Tolerance for Female Genital Mutilation (FGM)  – organized by UNFPA, the United Nations sexual and reproductive health agency, in collaboration with the European Union Delegation to Tanzania and the East African Community.
This year's theme "Unleashing Youth Power to Eradicate FGM" – Nguvu ya Kijana inamsukumo katika kutokomeza Ukeketaji – recognized the central role that Tanzania's youth can play in delivering on the global promise of eliminating FGM by 2030.
Members of Msichana's School Clubs – both boys and girls – who are raising awareness about the harmful psychological and physical impacts of FGM in school and in their communities – performed their vision of the world they imagine without FGM. Their hopes and aspirations for the future include a Tanzania where women and girls can enjoy their human rights and fulfil their dreams as doctors, lawyers and astronauts.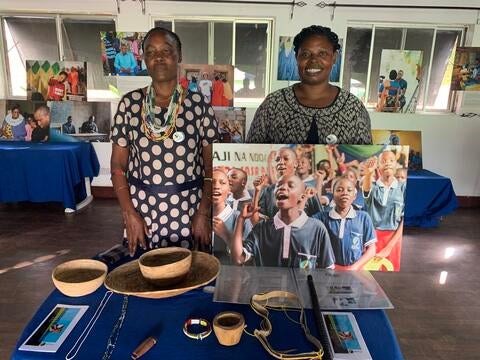 Rhobi Samwelly, herself an FGM survivor and lifelong anti-FGM activist, also spoke at the event, emphasizing the need for more safe houses and alternative rites of passage programmes – an initiative that UNFPA Tanzania is supporting – for the increasing number of young people in Mara Region who are fleeing their homes and saying no to FGM. Other changemakers and champions who are working tirelessly in their communities to eliminate FGM, including former cutters who have laid down their tools, were captured in a photo exhibition that opened at the commemorations and will remain in place for a week.
Faidha Suleiman, Senior Superintendent of Police and National Coordinator of Police Gender and Children's Desks (PGCDs), gave an overview of the police's increased capacity to identify, prevent and respond to gender-based violence, including FGM, as a result of UNFPA's and others support to establish PGCD and provide training for the police. She emphasized the urgent need to institutionalize the PGCD approach at all Police Stations – there are currently 420 PGCDs across Tanzania Mainland and Zanzibar – as 2020 is the year of the biannual cutting season.
There has been a decline in FGM prevalence over the last decade in Tanzania, but progress has been uneven and there are still regions where women and girls are subjected to FGM or live in fear of being cut, and with projected population growth the number of girls at risk of FGM will increase by 2030, despite the percentage reduction.  During the Decade of Delivery, UNFPA will continue to support youth to spearhead ending FGM efforts – both within Tanzania and across its borders – so that a world free of FGM that the youth of Tanzania imagine becomes a reality and the promise made by the global community of zero FGM by 2030 is kept for every girl, everywhere in Tanzania.