From 21st to 24th October 2019, UNFPA Tanzania, together with the Revolutionary Government of Zanzibar and the Mufti's Office, invited renowned scholars and religious leaders from the International Islamic Center for Population Studies and Research of Al-Azhar University, Egypt, to Zanzibar. The delegation met with parliamentarians, policymakers, religious leaders, community members and young people across Zanzibar to discuss voluntary family planning and Islam as well as the role of Muslim religious leaders as advocates for voluntary family planning. The study tour culminated in a National Dialogue on Family Planning, officiated by Zanzibar's Second Vice President, Ambassador Seif Ali Iddi, on behalf of Zanzibar President His Excellency Dr. Ali Mohd Shein.
South-South cooperation is essential for advancing progress on UNFPA's transformative result of realizing zero unmet need for family planning by 2030 as well as delivering on the Programme of Action of the International Conference on Population and Development. As a middle-income country with a majority Muslim population, Egypt has seen successes in increasing access to and uptake of voluntary family planning services and has also witnessed the benefits. Twenty years ago when family planning utilization was low, maternal deaths in Egypt stood at 271 per 100,000 live births. Now with a contraceptive prevalence rate (CPR) of 64 per cent, maternal deaths have fallen to 38 per 100,000 live births.
The Government of Zanzibar has created an enabling environment to ensure that all Zanzibaris have access to quality voluntary family planning information and services as evidenced by Vision 2020 and the recently launched Wajibika Hakikisha Uzazi Salama campaign.  But despite government commitment, the number of married women using a modern method of contraceptive in Zanzibar has stagnated at 14 per cent, and nearly a third of women who wish to exercise their right to decide on the timing and spacing of their births are not able to do so.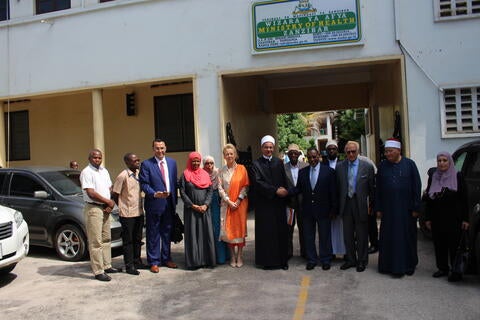 On 22nd October, Professor Gameldin Ibrahim Mohammed, Director of the International Islamic Centre for Population Studies and Research of Al-Azhar University and the delegation visited Zanzibar's House of Representatives and spoke with parliamentarians about the impacts of increased voluntary family planning access in Egypt. The response from representatives was positive with requests for a study visit to Al-Azhar University to build on south-south cooperation and intensify the exchange of experiences and information. At the end of the meeting – with increased knowledge  about the links between voluntary family planning and strengthened child health and reduced maternal mortality – the House of Representatives pledged a series of commitments, read out by Honourable Mgeni Hassan Juma, Deputy Speaker, offering their full support to voluntary family planning initiatives and agreeing to allocate more resources for reproductive health commodities, including contraceptives. They also pledged to make voluntary family planning access and uptake – with its associated health, economic and social benefits –  a priority on the development agenda, within  the House of Representative and in constituencies, wards and at other occasions.
As a climax to the study tour, a National Dialogue on Family Planning took place on the 23rd of October 2019, officiated by Zanzibar's Second Vice President, Ambassador Seif Ali Iddi. Discussions centred on the relationship between voluntary family planning and Islamic teachings. In the commitments made at the end of the Dialogue, faith leaders in Zanzibar pledged to make use of existing religious forums including Mosques, Madrassa and Darsa, to educate communities about the benefits of voluntary family planning and address religious misinterpretations.
Religious leaders, as important gatekeepers, have significant potential to influence the achievement of Zanzibar's development aspirations as well as national and global health commitments, including the Sustainable Development Goals, and are well-placed to advocate for voluntary family planning in the community to ensure that all Zanzibaris can exercise their reproductive rights and choices.