Over 600 youth from all over Tanzania gathered in Dodoma on 15 August to take the lead in commemorations for this year's International Youth Day 2019, with the national theme: "Towards 2030 and an industrialized Tanzania: Improving youth education for the nations development." Organized by UNFPA, ILO, UNICEF and UNESCO, with the support of UNFPA's implementing partners and local and international non-governmental organizations, the event was officiated by Guest of Honour, Hon. Selemani Jafo, Minister of State, President's Office Regional Administration and Local Government, with Amour Hamid Bakari, Deputy Principal  Secretary, Ministry of Youth, Zanzibar, and local government attending. The event was an opportunity for youth to speak with one voice, sharing their experiences of inclusive education and more broadly their expectations of the 2030 Agenda.
Achieving the sustainable development goals (SDGs) in Tanzania by 2030 will be a dream rather than a reality without the full and effective participation of youth.  Comprehensive, relevant and equitable education – that goes beyond the classroom – must meet the needs and realities of all Tanzania's youth, including the most marginalized. Ms. Sophia Mbeyela, Executive Director of Peace Life for People with Disability Foundation, gave a passionate speech on the challenges youth with disabilities face in accessing education, including sexual and reproductive health education, emphasizing that to be inclusive education must respect the abilities as well as reflect and embrace the realities and identities of this group.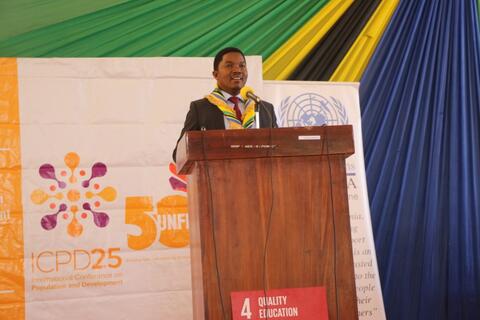 Guest of Honour, Hon. Selemani Jafo, emphasized the power of young people to drive their own development and the commitment of government to support them to seize opportunities. Jacqueline Mahon, UNFPA Representative in Tanzania, echoed these sentiments of youth as active champions of inclusive and accessible education and as changemakers, innovators and entrepreneurs that can create better and more inclusive solutions that respond to the challenges they face.  She stressed the need for collaboration and investment in innovation and technology citing the experience of UNFPA's AMUA Accelerator, where four starts-ups – supported by mentorship, seed funding, technical support and skills development – have reached thousands of youth across Tanzania with sexual and reproductive health information and education through the innovative products they have launched on the market.
The event was also an opportunity for youth to articulate the message they want delivered at the Nairobi Summit on 12-14 November 2019, where efforts will be regalvanized to finish the unfinished business of the International Conference on Population and Development Programme of Action, and fulfil the promises made to youth 25 years ago, creating a Tanzania where every youth – no matter where they live – can make their own reproductive health choices and enjoy their rights.