Visiting youth spaces in the community
The youth of Tanzania held a series of events to mark this year's International Youth Day with its theme "Safe Spaces for Youth".  On 10th August, activities were held in the community, which included visiting youth income-generating activities in Kingori Ward, Meru District; planting 500 trees in Tengeru Ward; a visit to the Red Apple Youth Empowerment Centre; and a visit to Kaloleni Health Centre, Arusha, that provides adolescent and youth-friendly sexual and reproductive health services. Community activities were officiated by Mr. Jerry Muro, the Meru District Commissioner.
 
The youth of Tanzania give a collective voice to their needs
On 11th August, a youth symposium took place, attended by 300 young people from youth-led and youth-serving organizations from Arusha, Dar es Salaam, Dodoma and Mbeya. Youth at the symposium highlighted their needs in five thematic areas: the importance of life skills education; the need for economic empowerment; access to youth-friendly sexual and reproductive health information and services; a focus on gender equality; and the needs of young people living with disabilities. Resolutions made at the youth symposium were forwarded to the responsible organizations for immediate action. The guest of honour, Mr. Richard Kwitega, Arusha Regional Administrative Secretary, said that the government is working hard to enable young people's participation in economic, political and social activities for the development of the country. "Young people can find new strategies that will help solve the challenges they face," he said.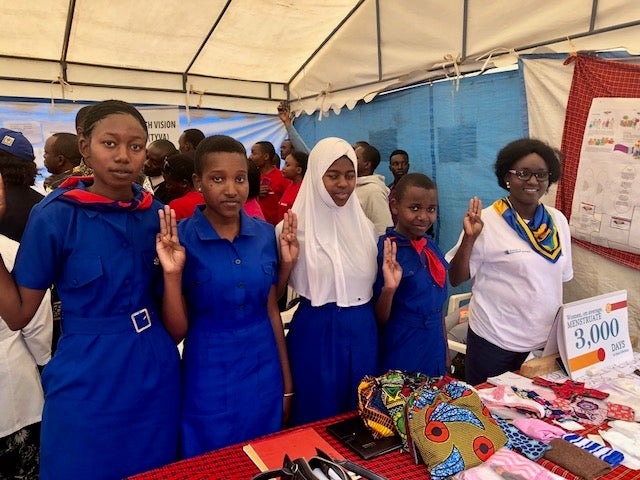 Eliakim Mtawa, the Youth Development Officer from the Prime Minister's Office – Labour, Employment, Youth and People with Disabilities, said: "Youth are the pillar of development and I hope that this forum will create a platform through which their dreams can be realized." He added that the Prime Minister's Office has been coordinating the Youth Development Fund as well as a country-wide development programme that many young people have benefitted from. Youth have been economically empowered through production groups that they have formed.
 
Mrs. Dianarose Lyimo, Chairperson of AfriYAN Tanzania, reiterated that the forum will give youth a common platform and 'one voice' to ensure that they participate in the development of the country.
Giving youth 'a place at the table'
On 12th August celebrations for International Youth Day culminated in a youth forum, with national and international organizations providing sexual and reproductive health services and information at the event.  The focus of the forum was to give young people "a place at the table", ensuring that they meaningfully participate in decision-making about issues that directly affect them. Young people met with various youth development stakeholders to discuss issues young people face in the country with the aim of adopting a collaborative approach to resolve these challenges.
 
Anthony Mavunde, Deputy Minister, the Prime Minister's Office – Labour, Employment, Youth and People with Disabilities, said the government has a strong commitment to safeguarding an environment that empowers young people and young people with disabilities, particularly economically.
 
Ms. Jacqueline Mahon, UNFPA Tanzania Country Representative, recognized the power of youth and spoke about one of UNFPA's programme's that focuses on young people in humanitarian settings and affected by conflict that is working to ensure that no one is left behind.  Stressing the importance of safe spaces for youth, she emphasized that UNFPA is committed to involving youth in the development of policies and programmes that affect them, echoing the sentiments of youth groups: ""Nothing about us, without us!"