Kasulu District, Kigoma, 3 February 2020 – A newly-constructed maternity ward was opened today at Muzye Dispensary  by District Commissioner for Kasulu District, Colonel Simon Anange. The maternity ward was constructed by UNFPA – with funding from the Government of Ireland as part of the four-year Ujana Wangu Nguvu Yangu – My Youth, My Power  – project in Kigoma Region – and is part of UNFPA's continuing support to the Government of the United Republic of Tanzania to strengthen the health system to deliver quality reproductive, maternal, newborn and child health (RMNCH) care for women in Tanzania.  
Construction began at Muzye Dispensary, Muzye Village, Kasulu District, in 2018, following an assessment by UNFPA, in collaboration with regional and local government, that identified facilities in Kasulu DC, Kasulu TC, Kibondo DC and Kakonko DC – districts where the Ujana project is being implemented in Kigoma Region – that lacked adequate infrastructure and equipment to provide quality RMNCH services.
The newly-built maternity ward has three separate rooms, a nursing station, bathroom, and an improved water system, and will be equipped to provide the full range of RMNCH services, including basis emergency obstetric and newborn care, ensuring that some of the most vulnerable and marginalized women in Tanzania now have access to timely and skilled care during pregnancy, delivery and after giving birth.  Prior to the construction of the maternity ward, pregnant women in the catchment area of Muzye Dispensary – which serves a population of 7,644 and where there are on average 21 deliveries per month – had to travel 25 kilometres to the nearest referral facility at Kasulu District Hospital if they were experiencing obstetric complications.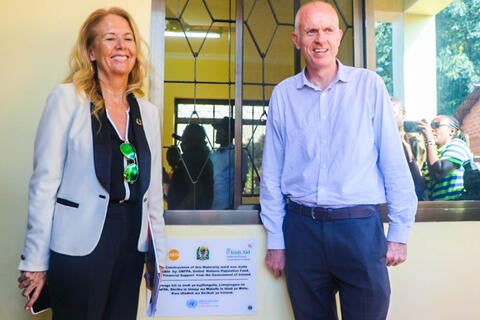 A total of nine maternity wards have been built in Ujana project districts during the first year of project activities – six are now complete and three are at an advanced stage of construction – and all renovated facilities will  be equipped to deliver quality antenatal, delivery, and postnatal services. In the second year of the Ujana project an additional 12 facilities will be renovated to provide comprehensive RMNCH care, following a further assessment by UNFPA and local government.
To capitalize on the investment in infrastructure, UNFPA is supporting training for staff at the renovated health facilities to improve the quality of care for the delivery of RMNCH services, and a campaign will be rolled out in the catchment area to generate awareness and demand.
Speaking at the event, Jacqueline Mahon, UNFPA Representative in Tanzania, said: "UNFPA remains committed to supporting efforts to strengthen the delivery of quality and comprehensive reproductive, maternal and child health care. The inauguration of this maternity ward here today at Muzye Dispensary will mean that pregnant women can access timely and skilled care during pregnancy, delivery, and in the weeks following birth – making motherhood safer, a life-changing rather than a life-threatening experience."
UNFPA will continue to support efforts to accelerate progress towards zero preventable maternal deaths and morbidities by 2030, ensuring that no one is left behind in the implementation of national and global development goals in Tanzania.