The National Sustainable Development Goals (SDGs) Youth Consultation to inform the United Republic of Tanzania's Voluntary National Review (VNR) Report on Agenda 2030 and the SDGs was held in Dar es Salaam on the 28th March 2019, with the theme "Leave no youth behind." Tanzania has volunteered to present its National VNR report to the High Level Political Forum (HLPF) in July 2019 for the first time, a positive step towards implementation progress. The HLPF is the main United Nations platform on sustainable development with a central role in both the follow-up and review of the SDGs at the global level. 
The consultation, organized in collaboration with the United Nations Association, Restless Development, Mulika Tanzania and AfriYAN, welcomed 50 representatives from youth-led and youth-serving organizations working in different thematic areas across the Tanzania mainland and Zanzibar. The zonal/regional representation ensured a diverse range of young people's voices were heard. The inputs gathered from the consultation will feature in a National CSO report, which will also be submitted at the HLPF in New York.
The youth consultation, designed to embrace the "Leave No One Behind" theme of the SDGs focused on youth's meaningful participation in the implementation of the SDGs with a special emphasis on Goals 3: Good health and well-being; 4: Quality education; 5: Gender equality; 8: Decent work and economic growth; 10: Reduced inequalities; and 16: Peace, justice and strong institutions, all identified by the World Youth Report  as goals that particularly impact on youth. Youth-led and youth serving organizations shared their experiences, successes, as well as what they see as key challenges to implementing the SDGs.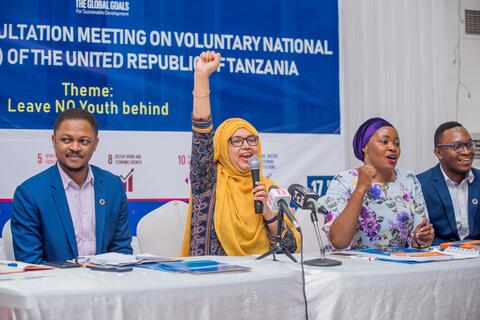 The 2030 Agenda and the SDGs cannot be achieved without the full participation and engagement of Tanzania's youth. While youth are often disproportionately affected by issues outlined in the SDGs, they are also well placed to tackle many of them. Addressing the participants at the workshop, Dr. Hashina Begum, UNFPA Deputy Country Representative, called on youth to define the world they live in and shape the world they will inherit in 2030 adding: "We cannot always build a future for our youth, but we can build our youth for the future. Youth must be at the centre of achieving the 2030 Agenda for Sustainable Development and transforming our world."
UNFPA's support to the VNR process for youth is the continuation of past initiatives to advance the mandate of young people in the implementation of the SDGs. 
 1. The VNR aims to facilitate the sharing of experiences, including successes, challenges and lessons learned, with a view to accelerating the implementation of the 2030 Agenda.
 2. World Youth Report. Youth and the 2030 Agenda for Sustainable Development. 2018.  United Nations Department of Economic and Social Affairs.