"Female genital mutilation (FGM) has had a negative impact on girls in our community, many of them get married after cutting, when they are still young, and at the end the community isolates them."
"…They said I was so disrespectful and I had made them so ashamed by running away from my culture.  They said there was no room for forgiveness nor could I go back home."
Some of the sentiments shared by adolescent girls involved in programmes aimed at protecting girls during the FGM season in Mara Region.  FGM is a life-threatening practice that has a devastating impact on a girl's life and one that the United Nations sexual and reproductive health agency (UNFPA) Tanzania, as part of the One UN, is supporting the Government of the United Republic of Tanzania to intensify efforts to end.  
It will take a whole society to end FGM and we continue to work on all fronts in support of government to tackle FGM.  Our technical and financial support to the Tanzanian Police has built their capacity to detect and respond to FGM cases; Gender and Children's Desks have been renovated and officers have attended training on gender-based violence that integrates FGM. Our support to the National Child Helpline has increased demand for the service and seen a greater efficacy in its handling of FGM cases. And we continue to provide both financial and technical support to the alternative rites of passage programmes run by the Association for the Termination of Female Genital Mutilation (ATFGM) Masanga, Tarime District, and Hope for Girls and Women, Tanzania, in Butiama and Serengeti.  
Alternative rites of passage offer a life-saving alternative to "the cut" to mark a young girl's transition from childhood to womanhood; 801 adolescent girls were protected from FGM through alternative rites of passage programmes at camps and safe houses set up by ATFGM-Masanga and Hope for Girls and Women in 2018.  As part of the alternative rites of passage girls learn about their culture and sexual and reproductive health and rights, as well as continue their regular studies. The programme culminates in a graduation ceremony held in front of parents, government officials, ex-cutters and other community members. Psychosocial support is also provided to girls at the camp as well as their parents. For girls like Bhoke her refusal to undergo FGM meant that she was rejected by her family and overnight her dreams and aspirations were snatched away from her.  At Hope for Girls and Women she attended sewing classes. She once dreamt of becoming a Doctor, her dreams have changed, but she still dreams big: "I want to become a well-known designer and be part of the Tanzanian fashion industry. One day I will design a dress for Hon. Ummy Mwalimu and Her Excellency Vice President Mama Samia Suluhu."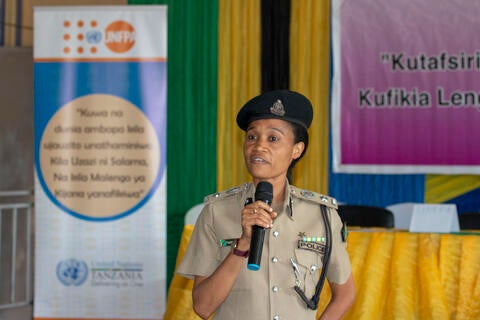 It was in Tarime District, Mara Region, where International Day of Zero Tolerance for Female Genital Mutilation was commemorated, led by Msichana Initiative, Hope for Girls and Women, Tanzania, and ATFGM-Masanga, with the support of UNFPA, the European Union Delegation to Tanzania, the East African Community, Plan International and Terre des Hommes.  The event brought together young people from three districts of Mara Region; Tarime, Butiama and Serengeti. The sentiments of this group were clear: they do not want to compromise any longer; no traditional leader or cutter should go unpunished if they continue the practice; and they are calling on the government for their support.
Mara Regional Commissioner, Mr. Adam Malima, responded to their call and declared he would continue to use his powers to protect girls against the agony of FGM and commended ATFGM-Masanga and Hope for Girls and Women, Tanzania, for saving approximately 3,500 girls from FGM in recent years.  Faidha Suleiman, National Coordinator of the Police Gender and Children's Desks, said that as a result of UNFPA's ongoing support and the commitment of the Tanzania Police Force significant progress has been made in the Police's handling of FGM cases.
UNFPA and its partners are determined to ensure that by 2030 no girl in Tanzania lives in fear of FGM. Declines in FGM prevalence in Tanzania, as evidenced by the Demographic and Health Survey, give hope that efforts made to end the practice are beginning to bear fruit, but gains have been uneven across the country.  World leaders overwhelmingly backed the elimination of FGM as one of the targets in the 2030 Agenda for Sustainable Development; Tanzania as a country cannot be content with fewer cases of this practice, it must insist on zero.