Launched in April 2015, the Afya Bora ya Mama na Mtoto Project (Accelerating Reproductive, Maternal, Newborn and Child Health (RMNCH) in Zanzibar) is a joint UNFPA-UNICEF programme funded by Global Affairs Canada (GAC) to support the Revolutionary Government of Zanzibar (RGoZ) to improve RMNCH.  The RGoZ, as reflected in the goals and priorities of the Zanzibar Health Sector Strategic Plan III 2013/14-2018/19 (ZHSSPIII) and the National Road Map on Reducing Maternal and Newborn Death, has prioritized the health and well-being of women and children in Zanzibar.
On March 19, 2019, UNFPA, UNICEF and GAC colleagues undertook a joint field visit to key intervention areas of the programme to hear first-hand from Ministry of Health (MoH) Officials, Local Government Officials, health workers, and communities about the impact of project activities.  
The Afya Bora Project is based on a targeted health system approach, complemented by demand generation at the community level, to respond efficiently to the needs and priorities of communities in Zanzibar.
Increasing quality emergency obstetric and newborn care
Timely access to well-equipped and well-staffed emergency obstetric and newborn care (EmONC) services is essential to reduce maternal and newborn mortality and morbidity.  Fuoni Primary Health Care Unit, located in West B District, Unguja – about five miles from Zanzibar Town – has been renovated and equipped under the project to provide basic emergency obstetric and newborn care (BeMONC) services 24 hours a day, seven days a week.  Providers have also received training to build their capacity to deliver high-impact and quality health interventions.  Since the renovations Fuoni has seen an increase in facility births – from 68 in 2016 to 109 in 2018. Antenatal attendance has also increased and importantly no maternal deaths have been reported by the facility since the new maternity ward was officially opened in October 2017.
Mothers-to-be in West B District can now access facilities closer to their homes, no longer required to travel to the tertiary hospital in Zanzibar Town. Feedback from women who have accessed the facility highlights their positive experiences during pregnancy, delivery and postnatal follow-up and the important role played by both healthcare workers and CHVs. 
Bridging the gap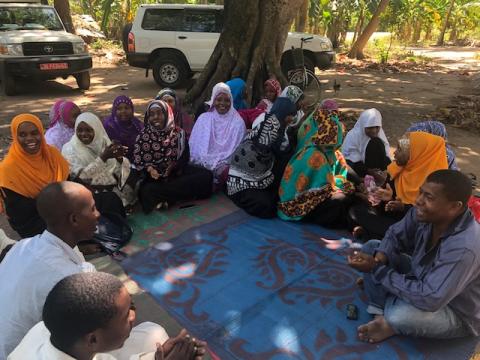 CHVs have an important role to play as a bridge between communities and health facilities and their contribution is recognized by the project. In Bumbwni Village, a district in the North Region of Unguja, CHVs are working with communities to change behaviours on health, water and sanitation and nutrition, and through outreach they are strengthening the referral systems response to effectively address more complicated maternal and newborn cases.  The views of pregnant women, adolescents, men and community officials are all the same: CHVs have had a positive impact on their lives.
Improving the quality of care through mentorship
Mnazi Mmoja Hospital serves the whole of Zanzibar (Unguja and Pemba Islands) with 40 per cent of deliveries taking place here. The prevailing shortage of human resources for health, alongside a high demand for maternity services, requires innovative approaches.  One such approach is the Mentorship Programme that has been introduced for the first time under the project to improve the skills of mid-level staff to address life-threatening obstetric complications. A similar initiative is taking place on Pemba Island at the main referral hospital in Chake Chake.
The Mentorship Programme is a flexible model that allows providers to learn while at the same time to continue providing the much-needed RMNCH services at their respective health facilities. In Mnazi Mmoja Hospital approximately 90 healthcare workers, including medical doctors, assistant medical officers, nurses and midwives, are benefitting from the Mentorship Programme.
Mentees report that the hands-on training has strengthened their skills and built their confidence to deliver quality RMNCH services, while they can leverage the expertise of their mentor to address more complicated cases. Dr. Salum, a newly qualified Doctor at the hospital, identified a woman who had lived with obstetric fistula for 16 years.  He lacked the skills and expertise to perform a fistula repair himself so his mentor, Dr  Hamed, took the lead in the operation, with Dr Salum assisting, observing, and learning.  The repair was successful and the difference it will make to the woman's quality of life and well-being is unquantifiable. Without his mentor, Dr Salum simply would not have been able to offer the treatment. Other interventions at the hospital include the Kangaroo Mother Care Ward, where there is specific training and on-site coaching to care for pre-term babies, and the Mini-Blood Bank at the Maternity Unit, which are all supported through the programme.
Officials from the MoH, Zanzibar, are committed to sustaining the gains made under the project and to expanding innovative approaches such as the mentorship initiative and the role of CHVs, while improving the quality of care and ensuring continuum of care from community to tertiary level, once the project ends in October 2019.