The Sustainable Development Goals set an ambitious target to reduce the  global maternal mortality ratio to less than 70 per 100,000 live births by 2030. To achieve this target in Tanzania, a large number of pregnant women must have equitable access to high-quality care by skilled personnel during pregnancy and childbirth. In rural areas of Tanzania, despite government commitment, pregnant women, constrained by distance and cost, are unable to claim their right to a positive and safe childbirth, and for many of them pregnancy is a life-threatening rather than a life-changing experience.
In Simiyu Region, the United Nations sexual and reproductive health agency (UNFPA), Tanzania, under the leadership of government, and through financial support from the Korea International Cooperation Agency (KOICA) is stepping up efforts to make motherhood safer. Thirty-eight government health facilities have been equipped and renovated to provide maternal and newborn health services, including comprehensive emergency obstetric and newborn care (CeMONC). UNFPA has also supported training for healthcare providers at the renovated facilities to build their capacities to deliver quality healthcare and ultimately improve maternal, newborn and child health outcomes. Three of the facilities now have an ambulance to strengthen referral systems and reduce the delays for pregnant women to access appropriate care.  
Nguliati Health Centre is one of the facilities that has been upgraded with UNFPA's support. Established as a dispensary in 1988, it was later upgraded to a health centre in 2014, with 10 trained staff and two buildings, one for outpatients and the other for reproductive and child health.  Women requiring emergency care during pregnancy, including caesareans, were referred to the Regional Hospital, some 40kms away in Bariadi.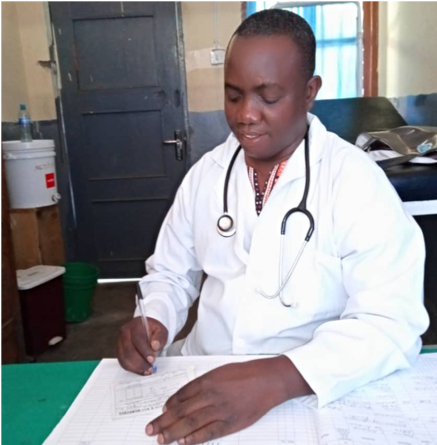 Dr. Lameck Rsuhinye, a 42-year-old, Assistant Medical Officer and Medical Officer-In-Charge of Nguliati Health Centre, has witnessed the centre transform from a dispensary to a facility that provides high-quality maternal and child health services.  He says that before the renovations challenges in capacity to provide emergency care and the general state of the centre discouraged women from delivering at the facility or attending antenatal care, but since the renovations this has changed. 
The facility now has a fully functioning operating theatre and maternity ward – and is equipped and staffed to provide CeMONC services.  Importantly  there has been a notable increase in the number of women giving birth at the facility and attending antenatal clinics.
Mary was referred to Nguliati Health Centre when she fell unconscious. Suffering from eclampsia, healthcare providers, trained in CeMONC, battled for an hour to save her life, performing a caesarean section to deliver her baby.
 
"I started feeling unwell at home, which is 20kms from here, and then later lost consciousness. My mother told me I was rushed to Sakwe Dispensary and referred here.  As there was no available ambulance, they used a motorbike to transport me. My feet were dragging along the ground, but at least they managed to get me here alive.  When I regained consciousness I had given birth.  I am very happy for this and would like to thank all the healthcare providers who worked so hard to save mine and my baby's life."
Tackling preventable maternal and child mortality and morbidity remains a major challenge for the Government of the United Republic of Tanzania and is high on the health agenda.  In May 2019, the "Jiongeze Tuwavushe Salama" campaign – "Go the extra mile! Help them sail through safely!" – launched nationally in 2018 was rolled out in Simiyu Region reflecting the continued investment by UNFPA and government in universal access to reproductive, maternal, newborn and child health.