UNFPA: Delivering a world where every pregnancy is wanted,
every childbirth is safe and every young person's potential fulfilled.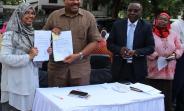 26 January 2017
The Zanzibar health Minister Mr. Mahmoud Thabit Kombo has called upon staff at the Ministry of health Zanzibar to work hard and increase their commitment towards reduction of maternal mortality in the Isles. Speaking...
1 June 2015
Burundi refugees giving birth in unsafe conditions
Tens of thousands of Burundian refugees are seeking shelter in Tanzania. On their way to safety, women are giving birth in unsafe conditions. Hundreds of cases of gender-based violence have been reported.
Resources
Women with no education get married on average at age 17.7 years versus 23.1 years for women with secondary or higher education.